Cabinets
Voice of the Theatre
Altec Lansing Voice of the Theater, the most sought after loudspeaker system Worldwide . Designed for the theater, reigning for decades, then replaced by systems most people call inferior. Cast into land fills and discarded as junk by the theater industry, their qualities could have been forgotten.
Approx one third of Altec theater systems were spared from land fills by theater technicians. Purchased and stock piled by a hand full of collectors who coveted their qualities and pursued their salvation. Frozen in time for a generation of listeners who could appreciate their timeless sound quality.
Here at Gary Fischer Speakers we pride ourselves in restoration and new construction of the Voice of the Theater loudspeaker systems. Each cabinet and component is painstakingly and meticulously restored or constructed to its original condition so that you can experience the Voice of the Theater the way Altec Lansing intended. With 10 years of improvements  bringing the theater sound into the consumer listening environment.
Today at Gary Fischer Speakers we offer more than just our classic Voice of the Theater systems. We now offer custom cabinetry and systems. Our customers can choose from a variety of options in customization to meet their unique needs.
Voices of the Theatre
Our Speakers
Our Voice of the Theatre cabinets (the home and body of the VOTT system) are completely built to factory dimensions, wood surfaces smoothed and painted to a unique Matte finish  smooth to the touch.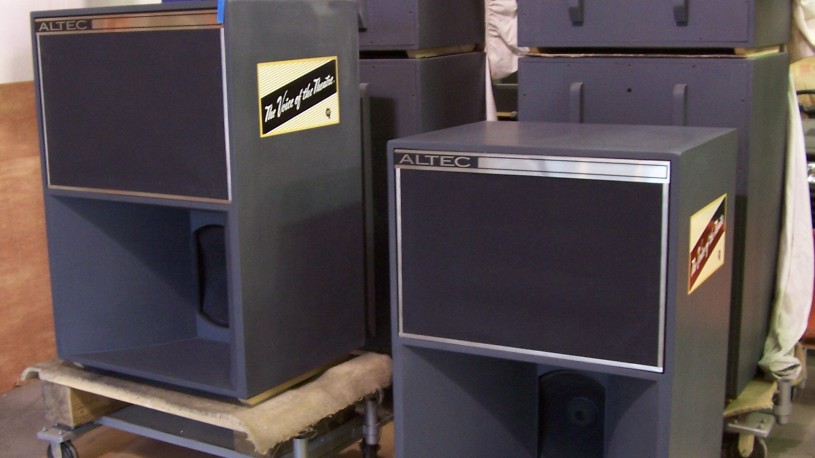 Original
Factory Cabinet Clones
Annoying original factory cabinet resonances are a thing of the past.
Our scratch built cabinets,  constructed with select plywood's, 1 1/4 " bracing thru out cabinet and additional bracing on bass horn structure, ensures a rigid cabinet with no resonance. Additional cotton batt damping insures no internal bass reflection, enhancing  L/F driver performance.
Dimensional Correct Cabinet Construction
Cabinets cloned to factory dimensions with additional interior bracing, increased horn structure integrity, far beyond original.
This enhances tonal qualities providing an accurate deeply personal listening experience.
Cabinets Painted Factory Color
Cabinets are finished and painted with color matched matte finish. Wood grain and defects are not visible, as were the original,  due to our finishing technique and processes.